POP3 or IMAP
If you have questions about IMAP or you want to see your mail on multiple devices, you may find the information below, helpful.
The IMAP protocol is not recommended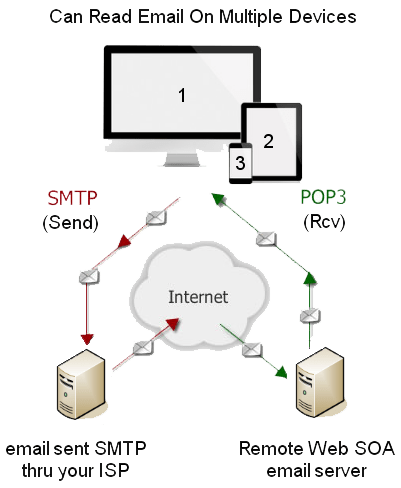 An alternative protocol for incoming emails is IMAP (Internet Message Access Protocol). This protocol allows access to emails stored on the server. We have always discouraged use of this protocol for the following reasons:
Emails are stored on the server
Emails are not backed up by you
If the server crashes, all of your emails may be lost
You have limited space on the server and when it is full, you may lose emails
We accept no responsibility for any loss of emails
We recommend the POP3 protocol
When you use POP3 to access your emails, your mail client (e.g. Outlook) downloads your emails and stores them locally. This means that you are in control of your email backups. Once emails have been downloaded, your mail client deletes them from the server, which saves space.
You want emails to appear on multiple devices
You can setup your mail client to delay the deletion of emails for a period (e.g. 14 days after being downloaded), so that you can be given the opportunity to download them to other devices, such as tablets, mobile phones or other computers. Your incoming emails will then be available on all of your devices.
What about outgoing emails?
If you use POP3 and you want your sent emails to be available on all of your computers, we suggest that you copy them (use BCC – Blind Copy) to yourself. That will mean that they will arrive in your inbox just like your incoming mail and can be downloaded by all devices.